Microbiome and Microbial Sciences
Faculty Contacts: Rob Knight &Victor Nizet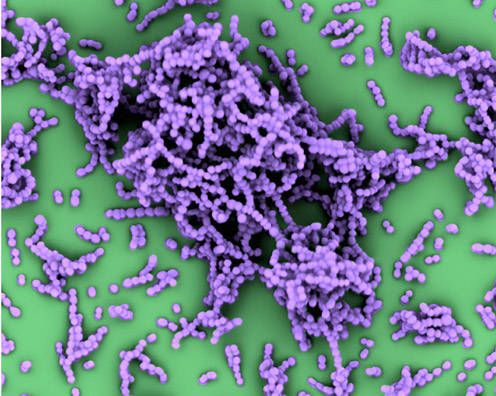 The Microbiome & Microbial Science Training Area focuses on the numerous critical interactions of humans with the microbial world, in both health and disease. The diverse and cross-disciplinary faculty members of this training area apply fundamental principles of microbiology, immunology, pharmacology, -OMICs (genomics, proteomics, metabolomics) and systems biology to understand the composition and function of the human microbiome, and to elucidate the molecular and cellular pathogenesis of viral, bacterial fungal and parasitic infectious diseases.
The microbes that normally inhibit our gut, skin and mouth provide 99% of our body's gene content, and function to help us digest and process nutrients, while generating their own waste and metabolites. Importantly, these microbes constantly interact with, and help shape, our immune systems. It is now recognized that the makeup of our microbiome influences diverse diseases including food allergies, obesity, inflammatory bowel disease, colon cancer, rheumatoid arthritis, atherosclerosis, asthma and even the brain function and behavior. Microbial communities we encounter in the home, hospital and outdoor environments further influence our health status. Understanding our microbiome and its role in human health can inspire novel diagnostic, preventative and therapeutic interventions. Indeed, the rich chemical and metabolic diversity of the microbiome is itself a promising source for new drug discovery.
Infectious diseases caused by bacteria, viruses, fungi and other parasites remain major causes of death, disability, and social and economic disruption. Infections are most prevalent in developing countries and among the poorest people, with limited or no access to integrated health care, prevention tools and medications. Ongoing threats include HIV/AIDS, malaria and neglected tropical diseases, and pandemic influenza. Increasing pathogen resistance to antibiotics (e.g. MRSA, multi-resistant tuberculosis, C. difficile) poses a critical threat to modern medicine as we know it. Research in the track seeks innovative infectious disease therapies to counteract this threat, through high-throughput screening, chemical genomics, and innovative strategies such as virulence factor inhibition, immune boosting, designer vaccines, probiotics and bacteriophage.  
Faculty members in the Microbiome and Microbial Sciences training areaare located not only in Departments throughout UC San Diego School of Medicine and Skaggs School of Pharmacy & Pharmaceutical Sciences, but also across the broader UC San Diego Campus including Biological Sciences, Chemistry & Biochemistry, Bioengineering, and the Scripps Institution of Oceanography.  The training area is part of a campus-wide initiative of the same name, and works in close collaboration with the UC San Diego Center for Microbiome Innovation, the joint UC San Diego/La Jolla Institute of Allergy & Immunology Program in Immunology, and the upcoming Collaborative to Halt Antibiotic-Resistant Microbes (CHARM).

Required coursework for BMS students
BMS students take a core curriculum that provides the foundation to allow them to specialize in any of the offered training areas. In the Fall quarter, "Molecules to Organisms" (BIOM 200A&B) provides a systematic approach to current Biomedical Research, using analysis of selected topics to focus on the process of research discovery and its critical evaluation. "Seminar in Biomedical Research" (BIOM 201) includes attendance at one of the UC San Diego seminar series and is designed to provoke critical discussion of the presented findings and scientific approaches in a small group setting. BMS students also take short courses in statistical analysis of data (BIOM 285) and ethics in research (BIOM 219) in the second or third quarter of their first year.
Specialized Coursework
Core Track Courses 
| Quarter | Course Number | Course Title | Units |
| --- | --- | --- | --- |
| Winter | BIOM 253 | Pathogens & Host Defense – Microbiology | 3 |
| Spring | BIOM 253 | Pathogens & Host Defense – Immunology | 3 |
Elective Courses (to fulfill 15 unit BMS elective requirement)
| Quarter | Course Number | Course Title | Units |
| --- | --- | --- | --- |
| Winter | BGGN 238A | Integrative Microbiology I | |
| Spring | BGGN 238B | Integrative Microbiology II | |
| Winter | BGGN 225 | Graduate Immunology | |
| Spring | BGGN 226 | Graduate Virology | |
| Spring | BGGN 264 | Structural Biology of Viruses | |